Download full program (PDF)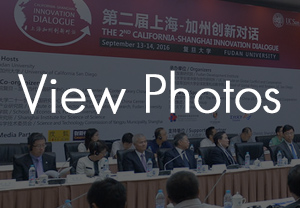 The Second California-Shanghai Innovation Dialogue gathers prominent Chinese and American business executives, policy experts, scientists and scholars to discuss the state of innovation in California and Shanghai. California, extending from the Bay Area to San Diego, is one of the world's foremost innovation hubs. Shanghai, with the surrounding Yangtze River Delta, is making rapid progress in becoming an innovation powerhouse in China.
The two-day dialogue was jointly organized by Fudan University and University of California San Diego. It took place on Fudan University's campus in Shanghai, welcoming government officials, academics, university leaders, business people, media and students.
While California and Shanghai diverge in their innovation models, these two regions share many key attributes, such as world-class universities, excellent infrastructure and vibrant entrepreneurial cultures. They also have many of the same industries that are driving the innovation, such as information technology, life sciences and financial sectors. In view of the commonalities and differences in the two regions, the second dialogue will focus on the following themes:
Innovation ecosystems in California and Shanghai, compared with each other and to other regions: Key topics included the dynamics and drivers of innovation in both regions, as the changing faces of innovation, institutional design, government-industry relations, regulations, financing and business models are key to scaling up from research and development to commercialization. Comparative analysis of the success and failures of regional innovation clusters also will be examined.
Close-up examination industries such as artificial intelligence and robotics, precision medicine, and financial technology: Three sessions will be devoted to a detailed discussion of innovative industries in both regions.
Financing and educating for innovation: Two panels detailed how talent is nurtured and sustained, as well as how banks, venture capitalists and investors are financing innovative firms and entrepreneurs.
Outlooks of economic growth in China and the U.S.: Attendees incorporated innovation into the big picture of economic growth.
Sept. 12: Pre-

Dialogue Events
18:30-20:30 Business Mixer and A Conversation About the Chinese Economy & U.S.-China Relations
ZHANG Jun, Fudan University
Susan SHIRK, UC San Diego

Moderator: JIANG Changjian, Fudan University
Sept. 13:

Innovation Dialogue:

A Tale of Two Regions - Shanghai and California
8:30–9:00 On-site Check-in

9:00–9:30 Opening Remarks

Moderator:

LIU Chenggong, Fudan University

BAO Xinhe, Fudan University

Peter COWHEY, UC San Diego

TAN Bing, Municipal Government of Yangpu District, Shanghai

FU Guoqing, Shanghai Science & Technology Association


9:30–10:45 Keynote Panel: Envisioning Innovation in the United States and China
Moderator: Susan Shirk, Chair, UC San Diego
ZHANG Laiwu, Fudan University
Peter COWHEY, UC San Diego
MEI Yonghong, Shenzhen National Gene Bank
10:45-11:15 Coffee Break and Group Photo
11:15-12:15 Session 1: Dynamics of Innovation in California and Shanghai
Moderator: Tai Ming CHEUNG, UC San Diego
Mary WALSHOK, UC San Diego

FU Guoqing, Shanghai S&T Association
12:15-13:45 Lunch
13:45-14:30 Keynote: The Role of Design in Innovation
Moderator:

LOU Yongqi, Tongji University

Don NORMAN, UC San Diego
14:30-15:45 Session 2: Comparing Regional Innovation Clusters
Moderator: WU Chen, The Economist, China
Douglas FULLER, Zhejiang University

WANG Zhijun, Science & Technology Association of Yangpu District, Shanghai

Kevin KLOWDEN, Milken Institute

LI Wan, Shanghai Institute for Science of Science
15:45-16:15 Coffee Break
16:15-17:30 Session 3: The Human Dimension of Innovation
Moderator:

Mary WALSHOK, UC San Diego

Doug GUTHRIE, Apple University China
CUI Hanwen, Alibaba Business Review
LUO Hui, National Academy of Innovation Strategy
18:30-20:30 Dinner for dialogue speakers, moderators and invited guests
Sept. 13: Special Roundtable (Invitation Only)
11:15 The Theory of Innovation and Sixth-sector Industrialization
ZHANG Laiwu, Fudan University
Sept. 14:

Innovation Dialogue:

Focusing on Industries
9:00-10:15 Session 4: Robotics, IOT and Artificial Intelligence
Moderator:

Tai Ming Cheung, UC San Diego

HOU Jilei, Qualcomm, Inc.
Jianfeng FENG, Fudan University

WANG Guoyu, Fudan University and Dalian University of Technology
10:15-11:15 Keynote Panel: The Future of Innovation

Moderator: Peter COWHEY, UC San Diego
Chris ANDERSON, 3D Robotics
WANG Jian, BGI
11:15–11:30 Coffee Break
11:30–12:45 Session 5: Life Sciences and Precision Medicine
Moderator:

Z.Y. LI,

Longevity Care



JIN Li, Fudan University
Alex DICKINSON, Illumina, Inc.
12:45-14:00 Lunch
14:00–14:45 Financial Innovation Keynote
Moderator: LI Lingfang, Fudan University

ZHOU Ye, China PnR
15:00-16:15 Session 6: Financial Technology Innovation
Moderator: LI Lingfang, Fudan University
Hao ZOU, Lending Club

GU Ming, Shanghai PaipaiDai Financial Information Service

SHENG Zixia, Antgroup


16:15-16:30 Coffee Break
16:30–17:30 Session 7: Financing Innovation

Moderator: SUN Lijian, Fudan University School of Economics

Oscar JAZDOWSKI, SPD Silicon Valley Bank



Charlie SHI, Omaha Capital China
17:30–17:45 Closing Remarks
Moderator: ZHANG Yi, Fudan University
LIU Chenggong, Fudan University
18:30 Dinner
Chris ANDERSON
CEO, 3D Robotics

Chris ANDERSON is the CEO of 3D Robotics and founder of DIY Drones. From 2001 to 2012, he was the editor-in-chief of Wired magazine. Before Wired, ANDERSON was with The Economist for seven years in London, Hong Kong and New York. He also is the best-selling author of "The Long Tail and Free and Makers: The New Industrial Revolution." Additionally, ANDERSON founded GeekDad, BookTour and a few other companies.

Tai Ming CHEUNG
Director, UC Institute on Global Conflict and Cooperation, UC San Diego

Tai Ming CHEUNG is the director of the UC Institute on Global Conflict and Cooperation and an associate professor at the UC San Diego School of Global Policy and Strategy. He is a long-time analyst of Chinese and East Asian defense and national security affairs, included from being based in Asia from the mid-1980s to 2002 to cover political, economic and strategic developments in Greater China. He also was a journalist and political- and business-risk consultant in Northeast Asia. His latest book is "Fortifying China: The Struggle to Build a Modern Defense Economy."

Peter COWHEY
Interim Executive Vice Chancellor and Qualcomm Chair of Telecommunication Policy, UC San Diego

Peter COWHEY is the interim executive vice chancellor for academic affairs at UC San Diego and Qualcomm Professor of Communications and Technology Policy at the UC San Diego School of Global Policy and Strategy, where he also serves as dean of the School. In 2009, he served as the senior counselor to Ambassador Ron Kirk in the Office of the U.S. Trade Representative (USTR), playing a key role in the strategic agenda for trade policy. His responsibilities in this 12-month assignment included supervising the work of USTR offices for the Americas, Europe and the Middle East, with a focus on market access and competitiveness, intellectual property, and services and investment.

CUI Hanwen
Deputy Director, Ali Research Center of Data Economy; Chief Editor, Alibaba Business Review

CUI Hanwen is deputy director of Ali Research Center of Data Economy and chief editor of Alibaba Business Review. He performs research on the development of information technology, commercial ecosystems, organizational transformation and corporate innovation, and has led and participated in many major research projects initiated by both government and industry. His expertise lies in telecommunications, the internet, e-commerce, e-commerce service industry, cloud computing and big data. Previously, he held positions in Datang Telecom Group and GFK Group. He is also currently a researcher in Center for Enterprise Growth and National Economic Security Research at Tsinghua University.

Alex DICKINSON
Senior Vice President, Illumina

Alex DICKINSON is Illumina's senior vice president of strategic initiatives. His responsibilities include nation-scale DNA sequencing projects with a focus on how those programs will integrate with and improve national health care systems. Previously, DICKINSON formed and led the team that created BaseSpace, Illumina's cloud computing platform, now the world's leading solution for genomic data processing and storage. DICKINSON joined Illumina when the company acquired Helixis, a molecular diagnostic company he co-founded with Nobel Laureate David Baltimore. DICKINSON also was the co-founder and CEO of Luxtera, a leading supercomputer chip company. He began his career as a researcher at AT&T Bell Labs and has been awarded more than 40 U.S. patents covering inventions including the camera and fingerprint technologies widely used in smart phones. He holds a Ph.D. in electrical engineering from the University of Adelaide, Australia, and an MBA from Columbia University.

FENG Jianfeng
Professor
Dean, Center for Computational Systems Biology, Fudan University
School of Mathematical Science, Fudan University

FU Guoqing
Chief Engineer, Science and Technology Commission of Shanghai Municipality

FU Guoqing is chief engineer of the Science and Technology Commission in Shanghai, a position he has held since April 2015. Previously, he was deputy director, director of international cooperation office and director of basic research office at the Commission.

Douglas FULLER
Professor of Business Administration and Entreprenurial Economics, Zhejiang University

Douglas FULLER is a professor in the Department of Business Administration at the Zhejiang University's School of Management, where his research focuses on innovation, technology policy and international business. He previously has taught at King's College London, Chinese University of Hong Kong and American University. FULLER has led research projects sponsored by the Alfred P. Sloan Foundation and the Savantas Policy Institute of Hong Kong.

Ming GU
Chief Risk Scientist, PPDai

GU Ming is the chief scientist of PPDai. He graduated from the department of computer science at Grinnell College and holds a Ph.D. from the California Institute of Technology. Previously, GU worked  as the senior analysis manager for Opera Solutions, providing quantitative analyses and models to commercial banks, investment banks and private customers. He also is the founder of Mirror System of Big Data Risk Control in PPDai. In July 2016, he was involved in the Program of Global Experts of Pudong District in Shanghai—as the only expert in financing recommended by the Bureau of Finance in the Pudong District.

Doug GUTHRIE
Senior Director, Apple Inc.; Faculty Member, Apple University

Doug GUTHRIE is a senior director and Apple University faculty member at Apple Inc. Previously, he served as dean at the George Washington University School of Business. His areas of expertise lie in the fields of leadership and organizational change, corporate governance and corporate social responsibility, and economic reform in China. On the Apple University team, GUTHRIE focuses on organizational/talent/leadership development, focusing on China/APAC.

HOU Jilei
Head of Qualcomm Research China, Qualcomm Inc.

Jilei HOU is the head of Qualcomm Research China. Since joining Qualcomm Inc. in 2003, he has contributed to the technology evolution and product commercialization for various wireless 3G and 4G standards. HOU also is responsible for Qualcomm's Greater China university relation program and helps the Qualcomm China marketing team consult with China telecom operators regarding technology evolution strategy. In addition, he is a senior member of the Institute of Electrical and Electronics Engineers, has participated in Frontiers of Engineering symposiums and is a member of China FIRST (Robotics) Competition Committee. HOU holds a Ph.D from UC San Diego.

Oscar JAZDOWSKI
Vice President and Head of Corporate Banking, SPD Silicon Valley Bank

Oscar JAZDOWSKI is vice president and head of corporate banking for SPD Silicon Valley Bank. JAZDOWSKI has more than 25 years experience with financing technology companies at all stages of development—from young venture-backed startups to large multinational companies across a broad base of technology and life science sectors. Having started his career with Bank of Boston in the U.K., JAZDOWSKI joined the High Technology Lending Group in 1983. Over the next 13 years, he held various positions, including running Bank of Boston's Silicon Valley office in Palo Alto, Calif., where he oversaw the development of numerous relationships with prominent Silicon Valley technology companies.

JIANG Changjian
Associate Professor of International Studies, Fudan University

Changjian JIANG is an associate professor at the School of International Relations and Public Affairs at Fudan University. He also is an independent non-executive director of Boshiwa International Holding Ltd. As well, JIANG serves as a supervisor of the Foundation pour l'innovation politique; as a committee member of the Shanghai Informatization Expert Committee; and as a council member of the Shanghai Creative Industry Association. JIANG holds a bachelor's degree in political education from Anhui Normal University, a master's degree in interntional politics from Fudan University and a doctorate degree in international politics from Fudan University.

JIN Li
Vice President and Haoqing-Fudan Professor, Fudan University

JIN Li is the Haoqing-Fudan Professor and vice president at Fudan University. He was awarded the Ho Leung Ho Lee Foundation Award in Science and Technology Achievement, the second prize for National Natural Science and the first prize for Science and Technology Progress of Shanghai, among several other accolades. He is member of the Chinese Academy of Sciences and serves as an editorial board member on nine academic journals, as well as president of the Shanghai Society of Genetics and as president of the Shanghai Society of Anthropology. JIN holds a Ph.D. in genetics from University of Texas Health Science Center at Houston

Kevin KLOWDEN
Executive Director at the California Center and Managing Economist, Milken Institute

Kevin KLOWDEN is the executive director of the Milken Institute's California Center and a managing economist at the institute. He specializes in the study of demographic and spatial factors and how these are influenced by public policy and, in turn, affect regional economies. His key focuses include technology-based development, infrastructure, the global economy, media and entertainment. KLOWDEN was the lead author of "Strategies for Expanding California's Exports."

LI Lingfang
Associate Professor of Management, Fudan University

Lingfang (Ivy) Li is an Associate Professor of Economics in School of Management at Fudan University. She received her Ph. D. in Economics at University of California, Irvine (2007). She worked as an Economics Assistant Professor in the College of Business, University of Louisville, and also as an associate professor and director of Center for Me-chanism Design and Information Economics in Shanghai University of Finance and Economics. Her research interests include information econo-mics, industrial organization, applied game theory, and behavioral economics. Her papers have been published in Management Science, Journal of Economics and Management Strategy, Decision Support Systems, etc. She currently serves as an associate editor for Decision Support Systems. She has led several Chinese National Science Founda-tion (CNSF) projects, and is a Huoshui Scholar for Alibaba group for several years. She has also been rewarded "Pujiang Scholar" and Excellent Young Scholarship of CNSF.

LI Wan
Deputy Director, Shanghai Institute for Science of Science

LI Wan is a researcher and deputy director at the Shanghai Institute for Science of Science. He is also a member of the Chinese Association for Science of Science and S&T Policy and director of the Special Committee of Technology Foresight. He is dedicated to the design of scientific and technology innovation strategy, policy research and consulting. He drafted reports on the construction of S&T innovation centers, S&T innovation in the 12th and 13th Five-Year Plan, S&T system reform, innovation ecosystems, the integration of culture and science, technology foresight and industrial technology roadmaps. He has also led or participated in a number of major projects of soft science initiated by the state and Shanghai municipal government. He has published multiple books and articles.

Zhong Yuan LI
Executive Chairman, Longevity Care Inc.

Zhong Yuan LI is the executive chairman of Longevity Care Inc., an independent, third-party, healthcare delivery service providing IOT medical and health assistance, with its primary dedication to the China market. LI received his Ph.D. in mathematics from the University of Michigan and taught at Massachusetts Institute of Technology, where he also conducted research sponsored by the National Science Foundation. He subsequently spent a number of years with bulge bracket Wall Street firms and later ventured into independent entrepreneurship in 2000. LI also is a member of the UC San Diego School of Global Policy and Strategy's International Advisory Board.

LIU Chenggong
Vice President, Fudan University

LIU Chenggong has taught at Fudan University since 1993, where he also received his Ph.D.. Previously, LIU worked as a visiting scholar at Macquarie University and Valparaiso University, concerning higher education management studies. He has served at Fudan University as director of the Policy Planning and Institutional Research Office, director of the Academic Discipline Development Office and director of the University Office before becoming vice president.

LOU Yongqi
Dean of College of Design and Innovation, Tongji University

LOU Yongqi is the dean of and professor at the College of Design and Innovation at Tongji University. His main research area is design for social innovation and sustainability. He serves as a board member of the World Design Organization and is founding executive editor of the Journal of Design, Innovation, and Economics (Elsevier) and an editorial board member of the MIT Press journal Design Issues.

LUO Hui
President, National Academy of Innovation Strategy, China Association for Science and Technology

LUO Hui is president of National Academy of Innovation Strategy at the China Association for Science and Technology (CAST). She also is president of the China Science Writers' Association, managing director of the Chinese Association for Science of Science and S&T Policy, adjunct professor of the University of Science and Technology of China, member of the expert team for the China-U.S Innovation Dialogue and an advisory committee member of the U.N. Economic and Social Commission for Asia and the Pacific. She also has served as president of the China Research Institute for Science Popularization and director of the Department of Research and Publicity at CAST. Her research interests include science and technology strategy and policy, innovation regions, technology talents, international science and technology cooperation, and science communication.

MEI Yonghong
President, BGI-Argo; Director, Shenzhen National Gene Bank

MEI Yonghong is the president of BGI-Argo and director of Shenzhen National Gene Bank. Previously, he served as deputy secretary and mayor of the municipal government of Jining in the Shandong province.

Don NORMAN
Director of The Design Lab, UC San Diego

Don NORMAN is director of The Design Lab at UC San Diego, where he also is professor emeritus of psychology, cognitive science, and electrical and computer engineering. He previously served as a vice president of Apple Inc., as an executive at Hewlett-Packard Co., and as a design professor at Northwestern and KAIST (Korea). He is co-founder of the Nielsen Norman Group, an IDEO Fellow and fellow of the Design Research Society. NORMAN, who holds three honorary degrees, also received a CHI Lifetime Achievement Award for human-computer interaction. His books include "Living with Complexity" and, most recently, an expanded and revised edition of "The Design of Everyday Things."

SHENG Zixia
Director of Decision Support for Artificial Intelligence, Antgroup

SHENG Zixia is the director of decision Ssupport for artificial intelligence of Antgroup. Previously, he served as head of risk management in mybank.cn for AliFinance. Throughout his career in Ali, he has taken responsibility of building up the risk management system, general loan decision system and merchants' credit evaluation system towards millions of Taobao sellers and B2B corporations. Before joining Ali, SHENG studied and worked in the U.S. and Singapore for 12 years in sectors of retail finance, risk management, quantitative models, credit evaluation system of developed countries. He obtained his master's degree in decision science from Carnegie Mellon University and master's degree in business strategy at National University of Singapore.

Charlie SHI
Founder and Managing Partner, Omaha Capital China

Charlie SHI is the founder and managing partner of Omaha Capital China, which focuses on venture and growth capital investments in Internet and technologies, healthcare, new energy and specialty retails. Among SHI's many investments are AutoNavi Holdings Ltd.(acquired by Alibaba), Baidu Inc., China Cord Blood Corp., China Digital TV Holdings Co. Ltd., KongZhong Corporation and MicroPort Scientific Corp. He chairs the alternative investment advisory committee of China Life Asset Management Ltd. and is currently a board member of China Life Franklin Asset Management Ltd. An avid reader of economics and history, SHI also is a fellow of Shanghai Development Research Foundation.

Susan SHIRK
Chair, 21st Century China Center, UC San Diego

Susan SHIRK is a research professor and chair of the 21st Century China Center at the UC San Diego School of Global Policy and Strategy. She is among the most influential experts working on U.S.-China relations and Chinese politics. SHIRK's book "China: Fragile Superpower" helped frame the policy debate on China in the U.S. and other countries. She previously served as deputy assistant secretary of state (1997-2000), responsible for U.S. policy toward China, Taiwan, Hong Kong and Mongolia, and she founded and continues to lead the Northeast Asia Cooperation Dialogue, an unofficial forum for discussions of security issues.

SUN Lijian
Professor and Vice Dean, School of Economics, Fudan University

Professor Sun is a member of the standing committee of China Society of World Economics. He focuses his research on comparing financial systems, micro-foundations of international macroeconomics, asset pricing approach to capital markets, the microstructure of foreign exchange markets and strategic international financial policy. Since he returned to China in 2000, he has published over 10 papers in authoritative Chinese academic magazines, including Economic Research, China Economic Quarterly, Journal of Financial Research, and World Economy.

TAN Bing
Deputy Head, Yangpu District, Shanghai

TAN Bing is deputy head of the municipal government of the Yangpu District in Shanghai. He is the former director of the Committee of the Municipal Government of Jiading District in Shanghai, where he also has served as the director of the Economic Commission, director of the Commission of Commerce and director of the Finance Office.

Mary WALSHOK
Associate Vice Chancellor for Public Programs and Dean of Extension, UC San Diego

Mary WALSHOK is associate vice chancellor for public programs and dean of the extension program at UC San Diego. An industrial sociologist, she has studied and written extensively about ingredients needed to build knowledge-based clusters and high-wage jobs. She is a co-founder of the San Diego-based nonprofit Connect and has served on numerous community and national boards. WALSHOK is the co-author of "Invention and Reinvention: The Evolution of San Diego's Entrepreneurial Economy," and she wrote "Blue Collar Women," "Knowledge Without Boundaries" and "Closing America's Job Gap." She is currently working on a handbook on regional innovation.

WANG Guoyu
Professor of Philosophy, Fudan University and Dalian University of Technology

WANG Guoyu is a professor of philosophy at Fudan University and Dalian University of Technology, where she also is vice director for the Scientific Research Department. As well, WANG is vice president of the Chinese Society for Ethics of Science Technology and Engineering. She is the principal investigator for the National Key Research Project for Humanities and Social Sciences "ethics of high- technology." Her research focuses on the philosophy and ethics of emerging science and technology, as well as research on technology policy in the European Union.

WANG Jian
President, BGI

As the president of BGI, Jian WANG conducts administration and decision-making on a series of major applied projects, as well as directs the research and application of these projects. He and his team have established a large-scale, high-throughput and low-cost technology platform.

WANG has published more than 100 scientific papers, including in journals such as Science and Nature. In 2010, he was named CCTV China Economic Person of the Year.

WANG Zhijun
Director of Science and Technology Commission, Shanghai

WANG Zhijun has held several directorships, including as Deputy Party Secretary of Science and Technology of the Yangpu District; director of the Science and Technology Commission of Shanghai; director of the Information Technology Committee of the Yangpu District; director of Intellectual Property Office of the Yangpu District; vice chairman of the Yangpu Association for Science and Technology; as well as executive deputy director of the Management Office of the Pilot District for Innovative Construction.

WU Chen
Editorial Director, The Economist Global Business Review

WU Chen is the editorial director of The Economist Global Business Review in Shanghai. Prior, he was the head of editorial (Asia-Pacific) for EuroFinance and the editor of CFO China.

WU holds a master's degree in Pacific international affairs from the UC San Diego School of Global Policy and Staregy and a master's in journalism from The E.W. Scripps School of Journalism at Ohio University. He earned his B.A. from Beijing Foreign Studies University.

Ning XI
Chair Professor of Robotics and Automation and Director of the Emerging Technologies Institute, The University of Hong Kong

Ning XI is the Chair Professor of Robotics and Automation and the director of the Emerging Technologies Institute of The University of Hong Kong. Previously, he taught at Michigan State University. His research interests include robotics, manufacturing automation, micro/nano manufacturing, nano sensors and devices, and intelligent control and systems. XI holds a D.Sc. degree in systems science and mathematics from Washington University.

XU Ningsheng
President, Fudan University

XU Ningsheng is president of Fudan University in Shanghai, China. He was President of Sun Yat- Sen University from December 2010 to October 2014, and in October 2014, he became President of Fudan University. His current research focuses on electron emission cold cathode materials. He has served as chairman and member of various steering commit-tees of international academic organizations, includ-ing IVMC/IVNC (International Vacuum Micro/ Nanoelectronics Conference), IFES (International Field Emission Symposium) and SID (Beijing Chapter, Society of Information Display), and is now the Chairman of Vacuum Society of China. He is also a Fellow of the Institute of Physics, UK. He is also one of the inventors of patents in China, the United States, the United Kingdom and other Euro-pean countries. He was elected to be an academician of Chinese Academy of Sciences (CAS) in 2009 and a member of The Academy of Sciences for the Developing World (TWAS) in 2011. He has served in a number of national expert committees, including China 973 and 863, two national key programmes. He is currently a member of the expert committee for the 13th National Five-Year Plan.

ZHANG Jun
Chang-Jiang Professor of Economics, Dean of the School of Economics, Director of the China Center for Economic Studies, Fudan University

ZHANG Jun is the Chang-Jiang Professor of Economics and dean of the School of Economics at Fudan University, as well as director of the China Center for Economic Studies at the university. His has contributed to The World Economy, China Economic Review, Economic Systems, the Journal of Asian Economics, the Journal of the Asia Pacific Economy, the Journal of Chinese Economic and Business Studies, and the East Asian Review. ZHANG also has authored or edited many books, including "Economic Transition with Chinese Characteristics," "Transformation of the Chinese Enterprises" and "Unfinished Reforms of the Chinese Economy."

ZHANG Laiwu
Dean, Institute of Sixth-Sector Industrialization Research, Fudan University

ZHANG Laiwu is dean of the Institute of Sixth-Sector Industrialization Research at Fudan University. He began working in the Chinese government in 1981 and, ultimately, went on to serve as the deputy minister of science and technology. He holds degrees in mathematics and economics from the School of Mathematical Sciences at Peking University and The State University of New York, respectively.

ZHANG Yi
Vice Dean, Fudan Development Institute

ZHANG Yi is vice dean of the Fudan Development Institute, as well as deputy director of the administration office of humanities and social sciences programs at Fudan University and an associate professor at the School of International Relations and Public Affairs at Fudan University.

Hao ZOU
VP of Risk Management, Lending Club

Hao ZOU is the vice president of risk management at Lending Club. His 20-year professional career concentrates in the consumer lending and payment industries in the U.S., particularly with expertise in credit risk and fraud risk management. Before joining Lending Club in 2011, he held positions at PayPal, JP Morgan Chase and other financial services companies.